Your Guide To Better Macro Photography
I am a really a big fan of macro photography which involves taking photos at a very close range and allows you to see details that are unseen by the naked eye, also it demands special gear and good skills. Most photographers think of macro photography as an outdoor style only, but actually there's also indoor macro photography that we will cover later. Today, we will talk about some tips to consider when taking a macro or close up photo along with some amazing macro photos to inspire you
Tips for taking better macro photos
1- You don't need special close-up gear to get close-up photos. You can simply shoot photos of small subjects with the lenses you have, at their minimum focusing distances.
2-To reduce the chance of getting a blurry picture caused by camera shake, use a tripod when taking a natural light macro picture.
3- Move up, down and all around the subject to get the best composition.
4- Try to make the photo look as simple as much as you can.
5- Use a small silver reflector to throw light back towards the subject and fill in the shadows caused by overhead illumination.
6-In close-up photography, focus is critical. Be sure to focus on the most important element in a scene. Also it's best to focus manually; an auto-focusing system might not set focus where you want it on a close-up subject.
7- When you shoot Macro, your Depth of Field will be extremely low, so is Important to shoot at a small aperture (f/11 to f/22) for good depth of field.
8-Natural light or even adding light in front of your lens to illuminate the subject you want to photograph is better than using the flash which will give you an unpleasant result in lighting.
9- Select a low ISO, for example you can use ISO 100 because a high ISO gives a lot of noise in the photo.
10-Be creative, give the photo that you are trying to take a unique effect, for example if you are photographing a flower you can put over small water drops to give it a special effect.
11- Take as many photos as you can of the same scene and choose the best shot later.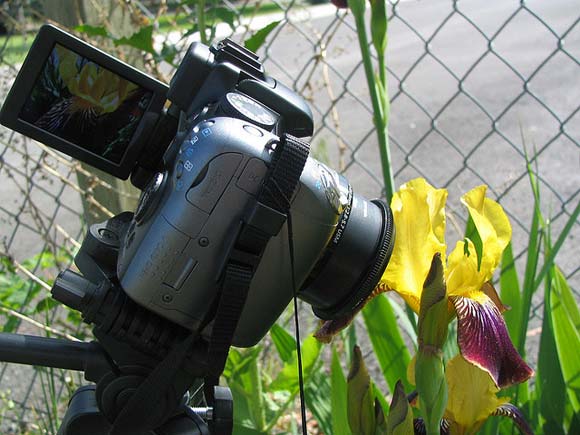 To zoom or to move
If you want to take a close up photo of a subject, you have two options: you can increase the focal length of the lens by using your camera's zoom or you can simply move the camera closer to the subject.
Any choice you make affects your photo in a few important ways:

1- Angle of view. As you increase focal length, you narrow the camera's angle of view. That means that your photo will contain less of the surrounding area than if you position the camera closer to the subject and use a shorter focal length.

2-Depth of field: Increasing focal length also decreases the depth of field (the range of sharp focus)

3-Exposure: Long focal length transmits less light than a short focal length so as you change the focal length, the camera needs to adjust aperture and shutter speed to ensure a correct exposure, in auto exposure mode the camera will handle the adjustments for you, in manual mode you will have to do the appropriate adjustments by yourself.
If you found this article helpful and you'd like to share your opinion or share a nice macro photo with us, please comment  below , If you want to be the first one to revive our latest updates just subscribe to our rss feed and you can follow us on twitter.
Here are some macro photographs to inspire you