Canon EF 100mm f/2.8 Macro USM Lens Review
The Canon EF 100mm f/2.8 Macro USM Lens is one of the best macro lenses you can buy for a Canon DSLR system. It is able to focus at 1:1 magnification, meaning that the subject looks life-size on the camera's image sensor, making the 100mm f/2.8 Macro a great lens for getting close up photos of bugs, flowers, and anything else that is small.

Build quality of the 100mm f/2.8 Macro is good overall, but not "L" quality. However, the build quality will not be a problem for the majority of users. The lens features Canon's Ultrasonic Motor technology and all focusing happens internally, which is excellent for a macro lens in this price range. This is especially useful if the lens is being used to photograph subjects that do not like to be disturbed. The manual focus ring is very smooth as well, and it can be useful to use manual focus for extremely small subjects as auto focus can struggle in these situations. There is also a handy auto focus distance limiter on the lens to make the lens hunt less when trying to focus on close up subjects.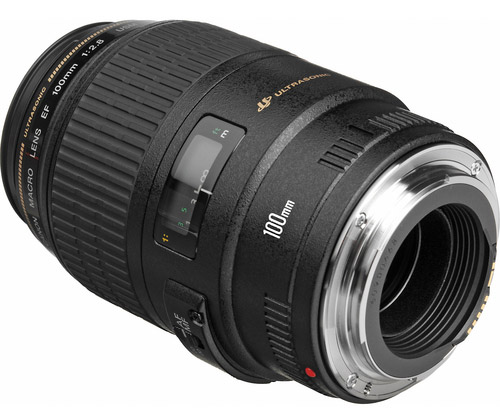 Image quality is extremely good, and very sharp images are possible even when shooting the lens wide open at f/2.8. In fact, 100mm f/2.8 Macro has equal image quality to the much more expensive 100mm f/2.8L Macro. The long 100mm focal length allows you to keep a good working distance from your subject as well. 1:1 focusing occurs at six inches away, meaning you do not have to get the lens right up against your subject. The focal length also gives photos a great blurred background, putting all the attention on the subject of the photo. The 100mm f/2.8 Macro also makes a great long portrait lens on both full frame and crop sensor cameras thanks to its sharpness and background blur.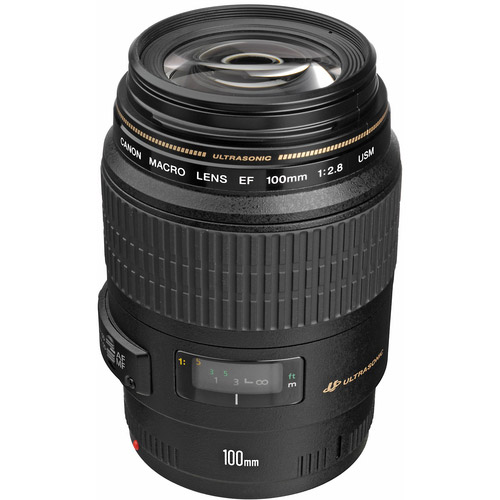 Simply put, the 100mm f/2.8 Macro is the best bang for your buck macro lens for the Canon EF lens mount. It is sold for a very attractive price and is perfect for any type of macro shooting. With this lens, a whole new world of photography will open up, ready to be enjoyed.
Specifications:
Focal Length & Maximum Aperture    100mm 1:2.8
Lens Construction    12 elements in 8 groups
Diagonal Angle of View    24°
Focus Adjustment    Inner focusing system with USM
Closest Focusing Distance    0.31m / 1 ft. (film plane to subject)
Filter Size    58mm
Max. Diameter x Length, Weight    3.1″ x 4.7″, 21.1 oz. / 79.0 x 119.0mm, 600g
Aperture Range – Wide / Long     f/2.8-32
Manufacturer Spec Size (DxL)     3.11 x 4.69"
Manufacturer Specification Weight     21.2 oz
Order the Lens:
You can order the Canon EF 100mm f/2.8 Macro USM Lens  from Amazon.
Examples:
Below are some shots taken with the Canon EF 100mm f/2.8 Macro USM Lens.