Canon EF 17-40mm f/4L USM Ultra Wide Angle Zoom Lens
The Canon EF 17-40mm f/4L USM Ultra Wide Angle Zoom Lens is a very high quality lens that is sold for a competitive price, making it one of Canon's best-selling "L" series lenses. When used on a full frame DSLR camera, the 17-40 f/4L acts as an ultra wide-angle lens, which makes it ideal for shooting vast landscapes or large groups of people. Overall build quality is superb. The zoom and focus rings feel solid and turn smoothly. The 17-40 f/4L is the smallest and lightest "L" lens currently produced. This allows the user to store it in a very small case if the lens hood is removed. It is also weather sealed when a filter is installed, allowing it to be used in adverse weather conditions without worry. The lens focuses very accurately and quickly, using Canon's Ultrasonic Motor technology.
Flare is also well controlled, even when the lens is stopped down. This is very important for a wide-angle lens since the large field of view often means there is a bright light source (normally the sun) close to or even in the image. Color and contrast are both good overall. Vignetting is a slight issue on full frame cameras, but stopping down to f/5.6 clears nearly all of it up. You also may like this affect when using the lens wide open, but post processing software can eliminate the vignetting if you do not care for it. Using a standard size filter does not add any more vignetting, which is good news for circular polarizing filter users as these filters really bring out the blues in a sky and the greens in plants.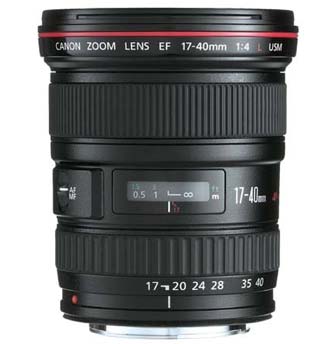 Center sharpness is very good and gets even better when stopped down to f/8 or f/11 for landscape work. In fact, if your most used apertures are smaller, the 17-40 f/4L is a better buy than the far more expensive 16-35 f/2.8L, especially if you do not shoot in low light conditions very often. If you have never used an ultra wide-angle lens before, you will be amazed at the breathtaking field of view that you see through the viewfinder. If you want to shoot landscapes on your full frame camera without breaking the bank, this is the lens for you.
Specifications:
Focal Length & Maximum Aperture    17 – 40mm; 1:4
Diagonal Angle of View    104° – 57° 30′
Focus Adjustment    Inner focusing system with USM
Closest Focusing Distance    0.28m / 0.9 ft.
Zoom System    Rotating type
Filter Size    77mm
Max. Diameter x Length, Weight    3.3″ x 3.8″, 1.1 lb. / 83.5 x 96.8mm, 500g
Price:
Get a price on the Canon EF 17-40mm f/4L USM Ultra Wide Angle Zoom Lens at amazon.
Examples:
Below are some shots taken with the Canon EF 17-40mm Lens.