How to Get The Best Fall Photos
Autumn is a great time to capture some stunning photos. You're surrounded by vibrant colors, crisp weather and loved ones as the holidays approach. With so much going on, the fall provides a lot of photo opportunities, so you have to be ready to take advantage of them. Here are a few tips to make sure you capture some great photos this fall.
Use The Autumn Lighting
One of the best reasons fall is so good for photos is that the sun sits much lower in the sky, creating great, diffuse light throughout the day. Fall provides many "golden hours" that accent the reds and golds of summer leaves brilliantly. Autumn afternoons and early mornings bring sunlight streaming through foliage that can provide great backlighting for pictures of your kids, or just perfect illumination for natural shots. Use the unique shadows and lights of fall to make the vibrant seasonal colors glow.
Be Careful of the Sun
While the great sunlight does create some terrific photos, it can also get in the way of an otherwise great shot. Avoid shooting into the sun whenever possible, since it will create shadows and wash out your image. If you absolutely have to shoot into the sun, make sure to shield your lens to avoid lens flare.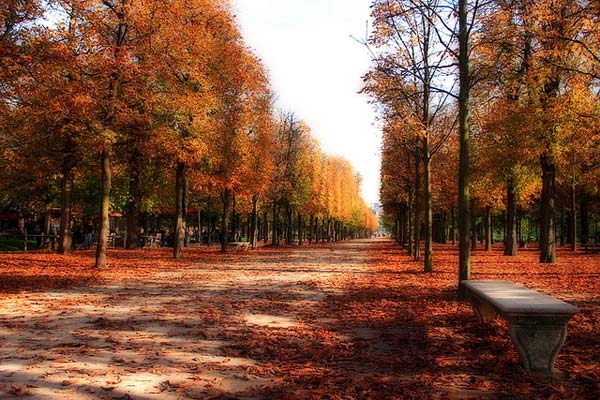 Anh
Slow Down
You may sometimes have to move quickly to get the perfect shot, but using a slow film speed (below 200) or a slow shutter speed on your digital camera can create some great artistic shots. You'll get a lot of color, but make sure that you use a tripod to stabilize your shot, since the slow speed will react poorly to camera movement. If you're taking action shots of your family, slow shutter speeds can create some fun blur effects, so don't be afraid to experiment!
Overcast is Fine
While fall is known for its beautiful colors, the fall will also bring plenty of overcast days that can create some excellent photos. The low light or early white frost can contrast well with the typically bright fall colors. Just make sure to up the speed of your film to make up for the lack of light.
Play With Your Depth of Field
Changing your camera's depth of field can create beautiful perspective by focusing on a specific portion of your image. It can be easy to get stuck and take similar images of fall foliage or activities over and over. Experimenting with your aperture can add a lot of variety even to photos of the same subject. If you're at a parade, try using a higher f-stop to take a picture that focuses sharply on your child, but with their favorite float approaching from the blur of the background.
Use Your Computer
This may be cheating a little, but there are many ways to tweak your images to make them shine by using Photoshop or a free image editor like GIMP. Play with the exposure or saturation of your images to make your oranges and reds really glow. Avoid overdoing this, but slightly altering the colors in your photos can create some amazing photos.
Get In Your Photos
Finally, make sure to involve yourself in your photos. It can be easy to get so wrapped up in taking photos of the fall environment or your family that you don't capture yourself enjoying the season. Use a tripod and an automatic shutter release to get a few shots of you interacting with fall leaves or enjoying a fall sunset.