Nikon 10.5mm Fisheye Lens
The Nikon 10.5mm f/2.8G ED AF DX Fisheye Nikkor Lens gives a stunning 180 degree field of view on APS-C DSLR cameras. This is better than the traditional 15mm fisheye, which gives only a 120 degree field of view on the crop sensor. This lens is small enough to fit in a pocket and light enough that you will hardly notice you are carrying it. Build quality and finish is excellent, giving the lens a very solid feel. While the lens lacks an auto focus motor, it does feature the screw drive auto focus mechanism for bodies with built-in auto focus. When the lens focuses, the front element moves in and out slightly, but it is nothing that interferes with normal use. Of course, like all fisheye lenses, it is not possible to use a front filter. However, a gelatin filter can be used in the rear of the lens.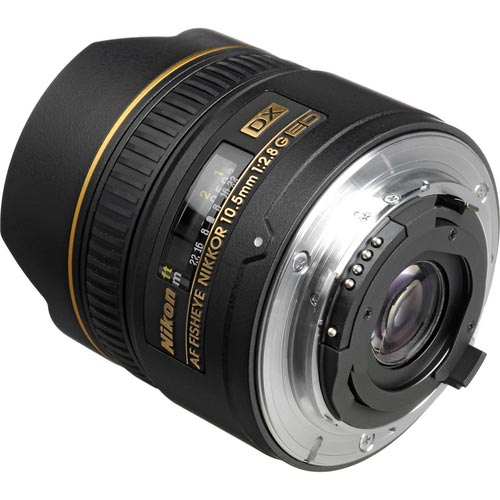 This lens has excellent sharpness in the center to the corners throughout the aperture range, leading to some stunning images. Color and contrast are also above average for a lens in this price range. While some purple colored fringing is present, it quickly disappears as the lens is stopped down somewhat. Some minor chromatic aberrations are also present, however these can be removed in post processing with minimal effort and no effect on the final image quality. If the correct post processing is used, it is also possible for the Nikon 10.5mm fisheye lens to be used as an ultra wide-angle lens as well. This reduces the detail on the corners of the image, but it is minor.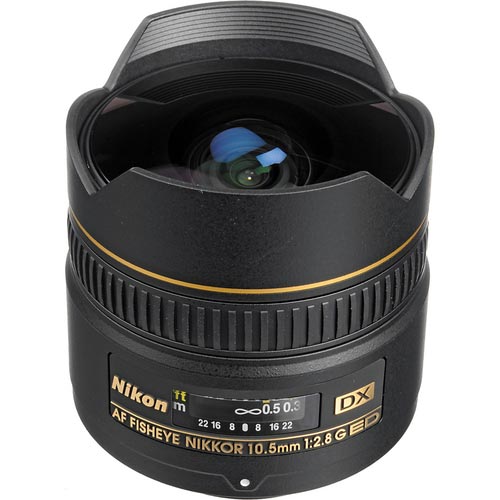 Using a fisheye lens can be a totally new experience and can be used in many situations. One of the most dramatic uses of a fisheye lens is in underwater photography. It gives the image a unique perspective and can give you that "wow" moment when you view the photos. The Nikon 10.5mm fisheye is also great for a unique take on city photography, especially architecture. The distorted look gives the photo a powerful effect if it is composed properly. Finally, aerial photography is another great use of a fisheye lens and can deliver a stunning perspective of a vast landscape.
Specifications:
Lens Type     Prime lens
Focal length   10.5mm
Picture angle  180°
Weight     Approximately 305 g/10.8 oz.
Diameter     63 mm (2.48″)
Minimum focus(closest focusing distance)    0.14 m (5.51″)
Image stabilisation     No
Maximum aperture     F2.8
Minimum aperture     F22.0
Price:
Get a price on the Nikon 10.5mm f/2.8G ED AF DX fisheye lens at amazon.
Examples:
Below are some shots taken with the Nikon 10.5mm fisheye lens.