Shutterbug's Guide To Portrait Photography
Shutterbug's Guide To Portrait Photography is one of those useful learning packs for photographers that have been written by a professional photographer, Sofia Romero.
Sofia started to learn photography in 1994 and has worked for different magazines and clients, such as Microsoft, Fiat, Phillips and Wall Street Institute, etc.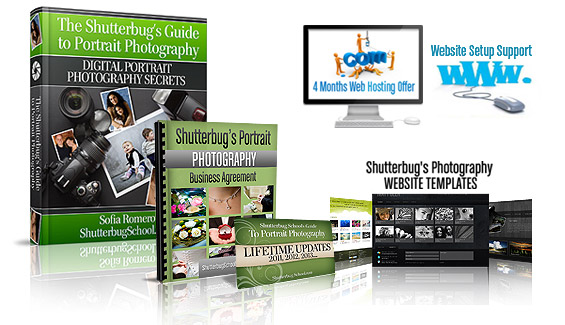 In our last review, we have covered Trick Photography and Special Effects that can teach you amazing photography tricks and techniques. Today's pack is different as it teaches you how to take your basic photography skills to the next professional level, especially in portrait photography.
While portrait photography is one of the most popular types of photography both with amateurs and professionals, there are some tips and tricks that can convert your amateur portrait photographs into really attractive professional ones.
Shutterbug's Guide To Portrait Photography by Sofia Romero is designed to be a very targeted course that instantly gives you all the necessary information to reach a professional level in photography. In this pack, you can learn the following:
What makes you a professional portrait photographer
Questions to should ask your clients before shooting
The lens you will need to get you started in portrait photography without spending a fortune
Where you should buy your lenses and camera equipments
The exact aperture required for shooting in low light conditions
What you should avoid when shooting close-ups
The shutter speed setting you must be aware of when taking portrait photography
How to create professional backgrounds
How to work with artificial light
How to make great backlight
Mastering the use of Flash and preventing the red eye
Understanding shooting with close loop or open loop lighting
Control the scene lighting ratios
The things you should consider when taking high and low key portraits
The software you should have to manage photo sessions
A free useful software that you can get without investing into the premium software YET
Learn how to create soft skin effect
Tips that you should learn when shooting groups of people and families
Tips to selling your photographs
Learn about handling resources and unprocessed images with the clients
Getting feedback from the clients
Learn how to make money from selling portrait photographs
Shutterbug's Guide To Portrait Photography pack includes all the necessary items required to start a professional photography business. When you buy this pack, you will get the following:
Shutterbug's Guide To Portrait Photography Ebook
This ebook includes around 180 pages of intensive information guide that you can use as a practical source to reach a professional level of photography. Throughout the book's chapters you will find examples and practice steps that can help you understand the different techniques and tricks.
Shutterbug's Portrait Photography Business Agreement
While many photographers spend a lot of money to just prepare a business agreement to save their payments and rights, this pack includes a photography business agreement template that you can directly use in your professional business.
Specially Designed Photography Website Templates
A portfolio website is very important for any photographer to showcase their work for their clients. Instead of spending a fortune on building a website, you can simply use one of those photography portfolio website templates included in the pack.
4 Months Of Website Hosting On Our Servers
In addition to the website, you will get a 4-month website hosting service with website support to help you build your portfolio easily.
Lifetime updates
You will get a lifetime update to the pack content to ensure that you have the latest information and updates.
This pack introduces good practical information that can help you to improve your professional portrait photography. Also, it includes important assets that every professional photographer needs.
Shutterbug's Guide To Portrait Photography costs $47 after discount and it supports the 100% money-back guarantee policy.
Try it and tell us your experience with this package by submitting your ideas to the comments section below.