Sony Alpha SLT-a35 16 MP Digital SLR Review
Sony Alpha SLT-a35 16 MP Digital SLR is a digital reflex camera, highly versatile for both professional photographers and amateurs who want a high camera performance. This piece of art is robust, resistant to any shooting condition, very easy to use and has advanced creative features. Compact, lightweight and easy to use, the new α35 (SLT-A35) camera from Sony offers similar speed shooting to those professional, as well as other artistic options for all art and photo enthusiasts around the world.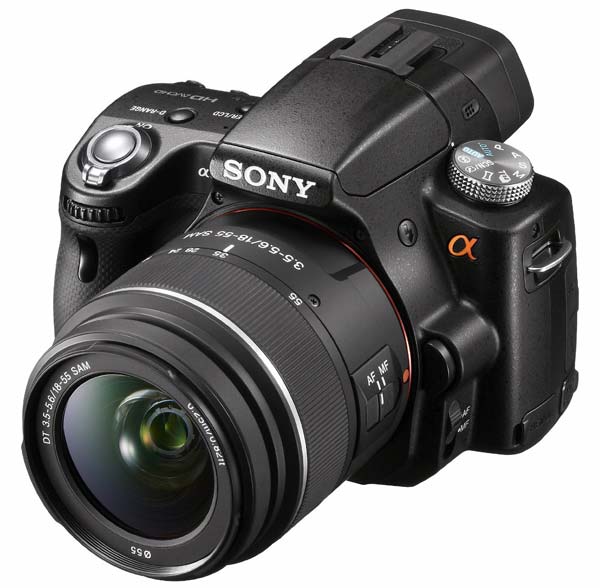 Sony Alpha SLT-A35 Features:
The main functions are: 16, 2 effective megapixels achieved by the CMOS Exmor™ APS HD sensor; semi-transparent mirror exclusive Sony technology for autofocus, continuous, full-time, high speed shooting and AVCHD filming; the fast shooting mode with tele-zoom, up to 7 fps, with approximately 1.4x image magnification; top quality, low noise images, up to 12800 ISO;"Picture Effect" function which enhances photos or HD videos.
The semi-transparent mirror technology from the popular α33 and α55, from Sony, allows high-speed shooting as well as fast and precise autofocus. For the first time, the α35 model incorporates a high-speed shooting function with Tele-zoom that enlarges the central portion of the image for an increase of the photographed area with approximately 1,4x during shooting at a speed of 7 fps. With a continuous autofocus on static or moving objects, this new model's technology is ideal for capturing sports scenes, the faces of children or distant subjects, with a burst of speed. Also, the fast mode (5.5 fps), allows a continuous shooting at a high resolution with continuous autofocus.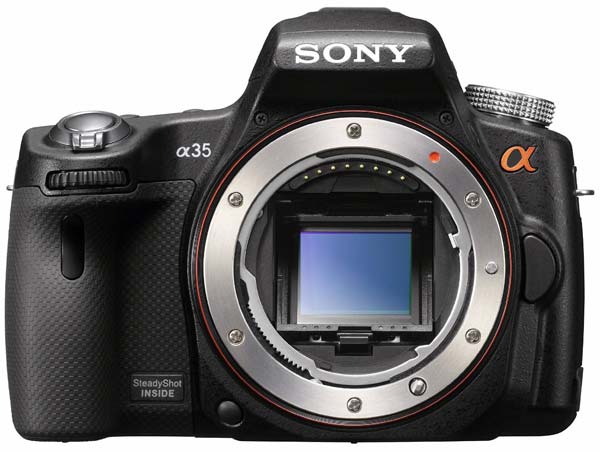 In addition to the resolution and high sensitivity of the CMOS Exmor™ APS HD sensor, the powerful BIONZ processor cleans and optimizes the image information for flawless results with faithful color reproduction. With a maximum sensitivity of 12800 ISO, the user can capture natural images and HD video in low light conditions where other devices could hardly cope.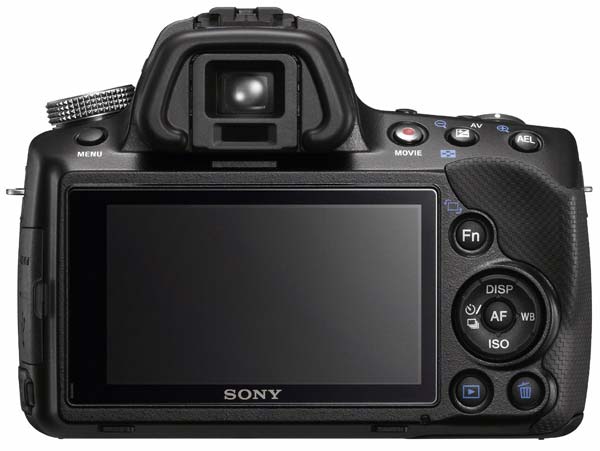 The advanced and fast AF Live View function shows in real time the results of the image sensor during shooting or filming in HD. Light is directed in part by the semi-transparent mirror of the AF sensor in order to allow continuous autofocus precision, a benefit not possible for traditional DSLR cameras. The high quality Tru-Finder viewfinder offers a high precision alternative for framing photographed scenes. With a highly detailed image contrast and 100% frame coverage it's ideal to preview the image effects and adjusting the exposure. The clear composer of landscape photos, architecture or other type of scene is enhanced by adjustable guidelines.
Sony Alpha SLT-A35 minus:
The only minus assigned to the Sony Alpha SLT-a35 16 MP Digital SLR is the price. This camera is, without a doubt, a work of art, but the price is a little out of hand, $700. I would give up everything to have this model, but I think Sony made this model a little overpriced.
Nevertheless, anybody that has the money and wants to create high quality or even perfect pictures should definitely buy the Sony Alpha SLT-a35.
Check Sony Alpha SLT-A35 on Amazon with
Sony Alpha SLT-a35 with 18-55mm Lens
Sony Alpha SLT-a35 – Body Only