The Fun Challenge of Shooting Bubbles
Bubbles are gorgeous subjects that can be extremely frustrating to capture in a photograph. They can pop and vanish right when you press the shutter button. If you are not quick enough, you will most likely end up with an empty space in your shot. They are very delicate and have a tendency to float away while you are composing the shot. Focusing is also tricky since they are semi-transparent and you need to make sure that your background is free of clutter.
If you are asking why go through all the bother of photographing such a difficult subject, the answer is in the results. Bubbles are naturally visually attractive and they can immediately catch the attention of an appreciative viewer. Soap bubbles have iridescent properties and can display a breathtaking rainbow of colors contained in a small and fragile globe. Bubbles also tend to cluster and form various fascinating geometric shapes. Images that show bubbles often make one feel light-hearted and carefree.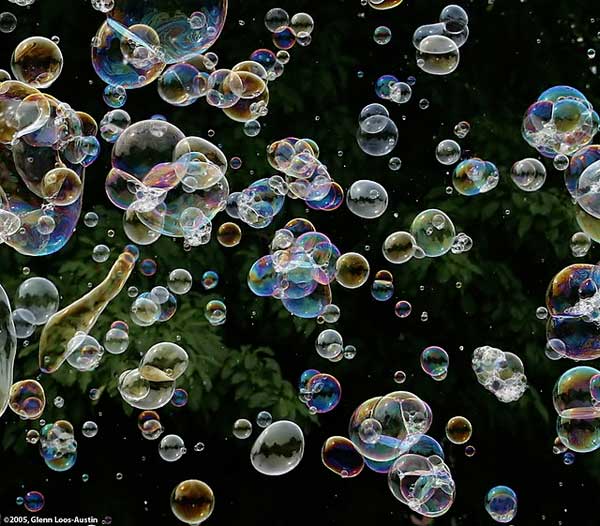 Photo by Glenn Loos-Austin
Make your own bubble solution
Toy and hobby stores usually sell bubble solutions, with a range of bubble wands that differ from the small and simple to others which create several bubbles all at once. You can even make your own bubble formula with a few simple ingredients:
Liquid detergent
Water (preferably distilled to lessen impurities)
Glycerin or sugar
Mix a cup of distilled water with approximately 1/3 cup of liquid detergent. Add a dash of glycerin or sugar to thicken the mixture and prolong the life of the bubble. Set it aside for a few hours before use. As for the bubble wand, you can use an old wand or make your own with wire that has been looped into a circle at one end.
Lighting and composition
Sunlight can evenly light bubbles and is the perfect light source especially if you are shooting outdoors. Keep in mind that bubbles can be highly reflective, and nearby objects such as trees, grass and even your face can be captured on the bubble surface. If shooting indoors, a lamp with a bulb that provides a strong bright light is often sufficient. Again, the lamp might be reflected on the bubble so place it in a strategic position and you might have to use a diffuser such as a large white sheet to capture the bubble's iridescence. You can also experiment with an off-camera flash and your camera's burst mode (if it has one) to increase the chances of capturing the bubbles before they burst. A plain background works best to showcase the beautiful bubbles.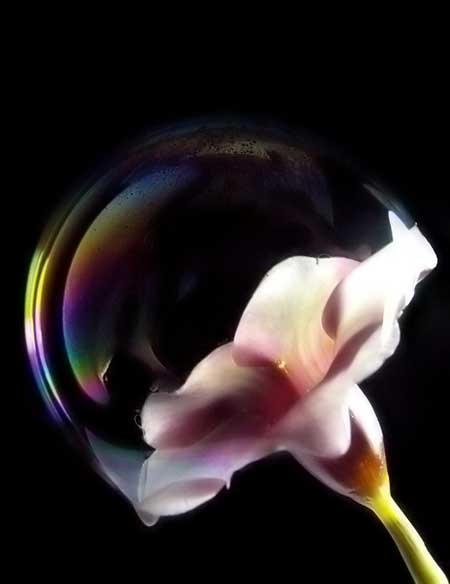 Photo by Lightstaff
Your camera settings
Your choice of camera settings always depends on the setup of the shot. A very fast shutter speed is ideal to capture floating bubbles while you can use a slower speed if you are shooting close-ups. Try to maintain a low ISO to lessen the appearance of image noise since bubbles are ideally smooth and glassy, and not grainy. Remember that aperture size affects depth of field so a bigger aperture will let in more light but will have lesser areas in sharp focus.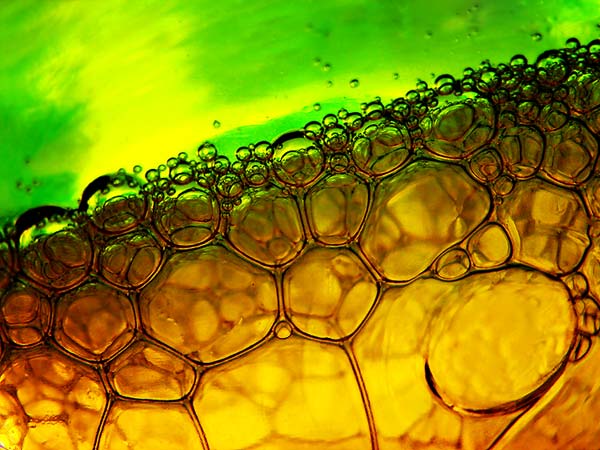 Photo by Lightstaff
Various ways to show bubbles
Bubbles come in many forms, which make them an endlessly fascinating subject. They can be the bubbles formed by children blowing on bubble wands, or those created when you vigorously shake the liquid soap dispenser. They can be the usual round shape or a flat bubble film which is great for capturing colors in a close-up. A word of warning when taking close-up shots: do not place your camera too close to the bubble since they will soon pop and soap can splatter on your lens.  Be creative and experiment and you will soon have bubble photos that will make people gasp with delight.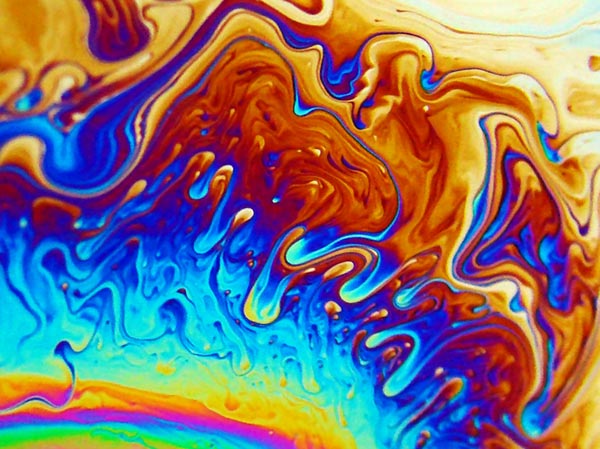 Photo by Lightstaff