Tips on How to Improve Your Sailing Photography
Sailing has become a fine art for those who have learned how to master its skills. Some of these skills are a thorough understanding of the ocean and wind and the ability to set the sails for optimal sailing performance. Sailing is one of the most common summer pastimes as it is so soothing. It is also one of the best opportunities to embark on some sailing photography and capture the ocean, the boat and the essence of your maritime surroundings.
Photographing sailing boats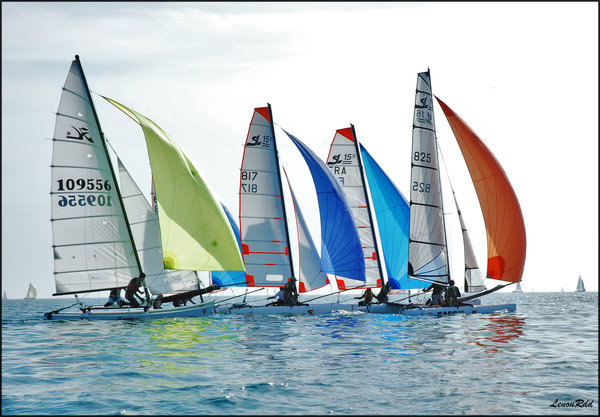 Sailing – Pieces froides by LenouRdd
Here you will need a rapid shutter speed. The dial needs to be adjusted to Shutter Priority or TV mode at a shutter speed of 1/400th of a second. Allow the camera to choose the correct aperture. The lens focus should be on Autofocus for best results here. With the Al Servo AF Canon/AF-C Nikon you should choose unremitting focusing for automatic re-focusing of the lens, if the boat is in motion. For sharper images of sailing photography, increase the ISO to ISO 200. Also, the use of a high quality wide-angle lens, could drastically improve your sailing photography.
Capturing scenic sunrises
Sailing photography would not be complete without an image of a beautiful sunrise. It is one of the most serene parts of the day and can be seen in all its splendour from the vantage point of a sailing boat. Be sure to set out for your sunrise viewing early as it does not last for very long. For the best sunrise sailing photography results you should utilize a wide-angle lens for a wider view and use a myriad of exposures. It is best to shoot the natural light so do use a motionless surface and a tripod. Remember that tripods do not reduce wave motion on a sailing boat; therefore it is best if you utilize high shutter speed and a high ISO. The mode dial should be set to AV mode and you should utilize a tiny aperture for better depth of field.
Capturing marvellous sunsets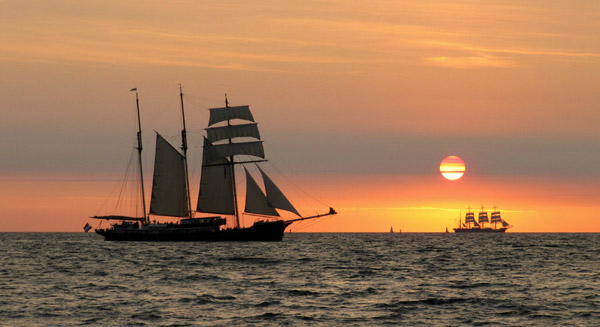 The beautiful Ostsee 2 by Nero99
Gorgeous sunsets come in an array of wonderfully vivid oranges and reds. This wonderful type of sailing photography, along with sunrise photographs is captured in what they call the "golden hour", as it comprises the final or first hour of sunlight for the day. It is vital that you move with haste here. Use a tripod for your camera, set the camera to AV mode and switch the flash off. When you use AV mode, the camera will automatically choose the right shutter speed. It is therefore the ideal mode if you are an amateur at sailing photography. The exposure compensation mode should be -1 or -2 as you could increase color saturation with underexposure.
Photographing Silhouettes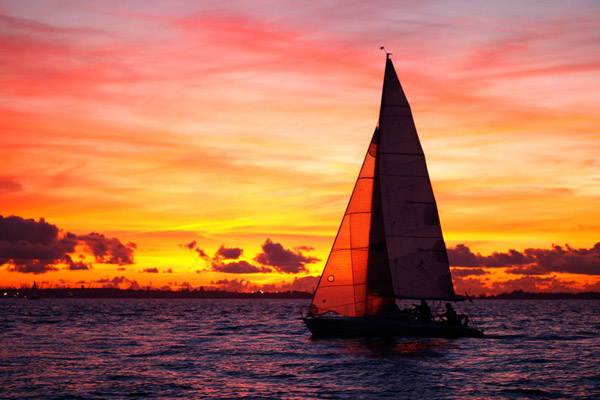 Yacht sailing at sunset by RomGams
This is one of the most unique and creative types of sailing photography. The secret to taking a remarkable sunset silhouette photograph is to use a solid backdrop with dazzling colors with an equally strong shape in your foreground. Do use the multi-zone metering or spot mode and remember to turn off your flash. You should always start by taking a light reading of the bright section only. Thereafter, release the shutter halfway, aim and take the photograph.
Capturing a portrait
Doing this as you sail should make for an intriguing angle as you will be simultaneously capturing the sky and boat. For the best portrait sailing photography, use a wide-angle or standard lens and adjust the aperture to f/11-f/32. This will enable the background and foreground to retain its sharpness. Use a fill-in flash in instances where the light is very bright. This will prevent the subject's face from being too dark. For the best portrait sailing photography, you should prompt your subject to play with different poses. A great pose variation example is when the subject turns their gaze away from the camera and then alternatively towards the lens.
Capture more detail when you zoom in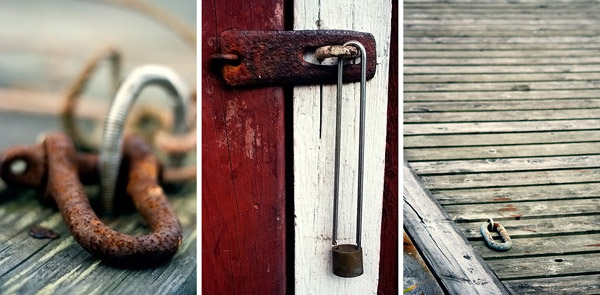 Going back in time by Ugglapuggla
A boat is the ideal set up for close-up photos as it comprises interesting photographic subjects like anchors, ropes, sails and the wheel. For the best sailing photography close-ups, you should use special macro lenses of 50mm-200mm. Utilize a shallow depth of field of f/2.8- f/8, elect a strong tripod and select a low ISO for great quality sailing photography shots. You should also try and use a remote, cable release or your camera's self timer when embarking on sailing photography. Do not forget that a small movement occurs when the shutter is released. Also, if an image has been magnified there will be a definite blur.
Recommended settings for sailing photography
With sailing photography, you need to ensure that the correct shutter speed has been selected. The ideal speed is at least 1/250th of a second. Check your white balance when photographing sunrises and sunsets and adjust your settings for the best color results during sunsets and sunrises. Remember that if you overexpose the image, your colors will be more vivid.
Recommended equipment for sailing photography
For sailing photography, standard and wide-angle lenses are ideal as a wide-angle can capture many aspects of the scene in one shot. Use a beanbag or tripod for a strong platform as the boat usually moves with the waves. Use a lens hood and polarizing filter for the ultimate in glare prevention. You should protect your sailing photography equipment from any water damage by using plastic covers and water housing. Do not forget to wear a secured camera strap at all times.
Sailing photography – Conclusion
Sailing photography is the ultimate way to capture the spirit of wonderful fun-filled summer time. You should try to capture all types of subjects, not just the boats and try to capture the tiniest details. Photograph people as well as the ocean surroundings. The only disadvantage of sailing photography is that you will have to work towards finding your balance when the waves produce a rocking motion. Other than that, practising the art of sailing photography should be a breeze