Surf Photography Tips and Tricks – A Beginner's Guide
Surf photography is as thrilling as it is risky. Thoughts of getting devoured by sharks, having your bones broken or drowning in dangerous waters may be at the forefront of your mind, but all of these risks make the experience a lot more exciting. And, once you get that perfect shot, the adventure will be well worth it at the end of the day.
Surf photography is more than just taking lovely shots; for most photographers, it gives an amazing adrenaline rush and sense of fulfillment. If you're interested in giving it a try, here are some useful tips from firsthand experience to guide you.
Recommended Equipment to Use for Surf Photography
There's no need to buy the most expensive photography equipment to capture stunning surf photos. If you're a beginner, Kodak and Fuji are ideal brands that make waterproof cameras. They're inexpensive and reliable cameras to practice with in the waters.
However, if you prefer digital, you can go for digital underwater cameras made by Pentax and Olympus. These cameras produce great shots, and they're rather affordable as well.
There's usually a lag before a picture gets taken when using point and shoot digital cameras. To make better pictures, the trick is to determine the actual length of the lag time so you can estimate when to press the button. Keep in mind that proper timing is crucial in surf photography.
Water housings are another useful photography equipment. These are basically boxes designed to keep your camera dry. They can be created for different types of cameras from point and shoots to SLRs. The price ranges from $300 to $1,000 and above.
A helmet and a good pair of swim fins are also recommended equipment for surf photography.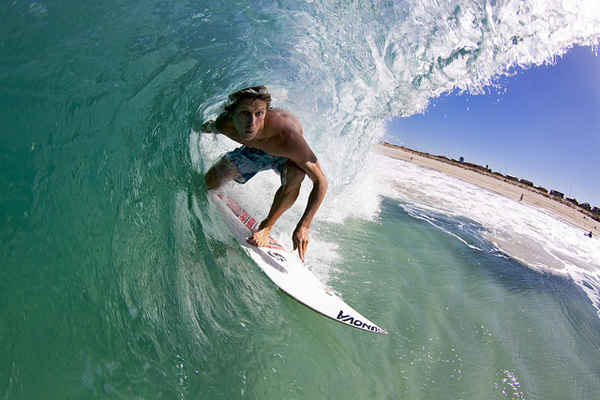 Sunova  Surfboards
Techniques to Apply in Surf Photography
Now that you know which equipment to use, the next important thing to learn is how to make wonderful shots. How do you take an exceptional photo? The answer is, it's all about the lighting. Getting the right amount of lighting is the secret to capturing perfect shots. If you choose the right time of day to shoot, your photos will be much better.
Early morning sunlight typically yields the most amazing shots when it comes to surf photography. Many pictures that you see in magazines make use of early morning light called "front lit." On the other hand, you'll get "back lit" light if you choose to shoot around sunset time. This type of light is also great since it usually creates a silhouette of the surfer, and the colors look vibrant and breathtaking.
You should avoid shooting around the middle of the day since the light isn't suited for surf photography. Instead, you can spend this time to take a break and enjoy surfing.
However, there might be times when the weather unexpectedly turns cloudy or overcast. In this situation, try to switch to black and white. You can still produce excellent shots by taking away the color.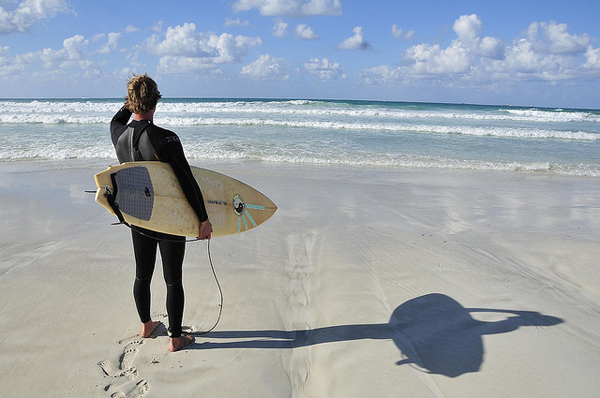 Surfing The Nations
Shooting from Land
You might be wondering: Is it possible to try surf photography without getting yourself wet? Definitely yes. You can shoot from the beach so you don't have to dip into the waters.
Here are a few tips to shoot from land:
– Try taking wide shots, which means you don't always have to zoom in.
– Try shooting at different angles as you walk down the beach.
– Take advantage of depth of field.
– Try line up shots.
– Bring the viewer's eye to the focus of your photo by using a tree branch or any object to crop the top of the photograph.
– Place an object or person in the foreground with the surfer in the background.
Use your creativity, and search for opportunities to shoot pictures in different ways.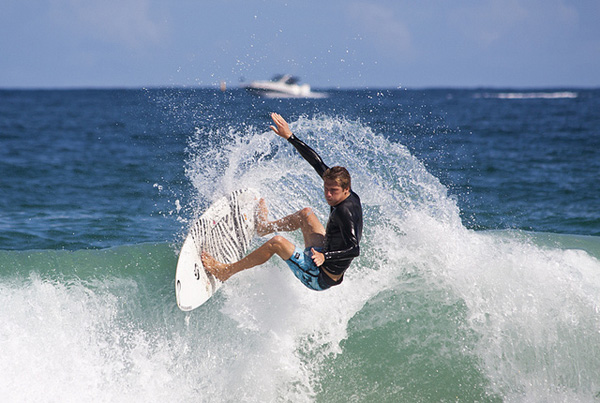 Sunova  Surfboards
Keep Practicing
Practice makes perfect so keep honing your skills. You'll learn to get into the right position spontaneously as you go out more and shoot lots of surf photos.
Practice a lot, critique your work, and see where you need improvement. Take note of your mistakes. It's is an effective way to improve your photography skills.
Surf photography is an enjoyable and exciting adventure for any amateur or professional photographer. Just remember to know your limits, and be careful. It's alright if you don't get those perfect shots on your first try. Keep practicing and have fun.