Top 5 Compact Point-and-Shoot Cameras
Point-and-shoot cameras are a great choice for many people, not only because of their affordable price, but also because they are easy to use and you can carry them in your pocket wherever you go. Although professional DSLR cameras provide a great experience in photography, they are very expensive and require a good knowledge of photography, which is not needed for general use like taking photos of the family, sharing photos on Facebook, or even taking photos of special places.
Point-and-shoot cameras have developed a lot in the last few years to reach the advanced level of a DSLR camera's accuracy, sensitivity and stability. Some cameras can produce real high quality images with simply pointing and shooting. In 2011, there are a lot of digital cameras in the market, which makes it quite hard to decide which one to buy, and which options to consider the most important in your next camera.
In this brief review, we will go through some of the best compact cameras of 2011 and see which one can fit your needs.
This camera is an upgrade from the previous Powershot S90 with the ability to shoot high definition video with 720p at 24 frames per second. The biggest advantage of this camera is its small size. Canon has added a control ring around its 3.8 optical zoom lens, to provide an extra controller for the camera settings without adding an extra button.
Canon PowerShot S95 has great color accuracy results, exposure quality and video quality. Despite its variety of options, the lack of buttons make it hard to use until you get used to the control ring, which allows you to control the setting on the 3-inch screen.
The 10 megapixel camera lets you shoot images in JPG and RAW formats, with a wide angle of 28 mm and the 129 mm telephoto.  The new Canon can shoot videos in MOV format in 1280x720px,with a maximum of 30 frames per second.
The new PowerShot S95 includes a high ISO level of ISO 3200 and ISO 500, which still gives great results without any image noise. The manual control of the aperture is between F2.0 and 80, and the manual shutter speed 15 to 0.00025 seconds.
The battery performance is not as good as the rest of the features, as the battery life is too short. It is capable of taking around 200 images with every charge cycle, which may require you to buy an extra battery that you can keep with you, in case your battery is emptied in a middle of an event.
The overall thoughts about the Canon PowerShot S95 are that it is good camera with high image quality. The only problem is the low battery life, which should be taken into consideration.
Price: Get a price on the Canon PowerShot S95 at Amazon.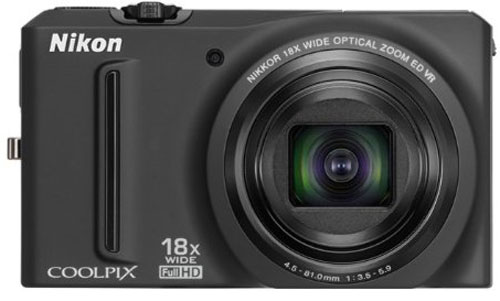 The most noticeable feature when you look at the Nikon Coolpix S9100 is the manual zoom: the S9100 provides an extraordinary 18x manual zoom, which is rare to find in a small digital camera.
The new, powerful Nikon is a wonderful camera for amateurs and professionals alike, due to its great results both with still images and video. Although the Coolpix S9100 does not provide many controls, it has several scene modes, which allows you to take great shots without having to worry about the different settings. This amazing camera is very clever and will get you great image results, despite its small size and few controls.
The Nikon Coolpix S9100 takes images with 12 megapixels in JPEG format, with a 1/2.3 inch image sensor.
The disadvantages of the new Nikon Coolpix are that it does not provide RAW extension support or any manual controls. I do not see this as a big problem compared to the low battery life in the previous Canon Powershot S95. Generally, you will not need to manually set the different settings in a small camera.
Price: Get a price on the Nikon COOLPIX S9100 at Amazon.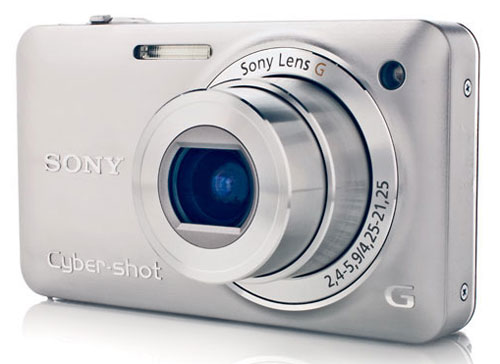 Unlike the Nikon, the Sony Cyber-shot DSC-WX5 optical zoom is not that impressive as it has 5X zoom. On the other hand, Sony just decided to provide a unique 3D experience for this new camera, by adding the ability to shoot 3D images and photos that complement the Sony 3DTV technology.
The new Sony allows you to take images in 3D-mode, where you press the shutter and the camera does the rest of the work, by taking multiple images and merging them so you can see the image and navigate through it in a 3D-like way. Also, it provides a very easy and automated way to take panorama photos from a sequence of images.
This camera, similarly to the previous one, does not have many controls, but it provides high quality images with 12 megapixels in JPEG format, with sensor a size of 1/2.3 inches.
The LCD is 2.8 inches and it supports many types of Sony storage memory cards. This camera seems to be better than the previous ones in shooting video, as it records the video in 1920x1080px with 60 frames per second.
The few manual controls could be a disadvantage, but like I said before, it may also be a strength of the small digital camera, which is meant to point and shoot without extra steps in the middle.
Price: Get a price on the Sony Cyber-shot DSC-WX5 at Amazon.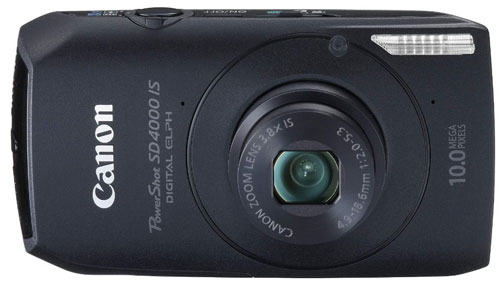 We can say this is an average camera without special features, but it may serve multiple purposes as a small digital camera. The Canon PowerShot SD4000 is remarkable with its unique body and gives some options for manual controls, unlike the previous two cameras.
This new Canon is similar to the Powershot S90 and provides an image quality of 10 megapixels with 4X optical zooming.  It can also produce MOV videos in 1280x720px. Its weakness is that it does not provide good video quality in low light scenes.
While it has video quality issues with low light, it does provide very good images in the same low light situations.
There are othaer disadvantages of this camera in addition to the low quality video.  The new camera does not provide full manual controls and is not very usable, as it requires many steps to reach the camera settings.
Price: Get a price on the Canon PowerShot SD4000IS at Amazon.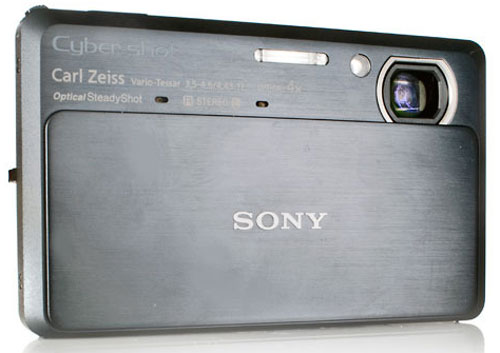 Our last choice in the list is the Sony Cyber-shot DSC-TX9. It is a very slim camera with similar options as the DSC-WX5, such as the 3D feature and the support of Sony memory cards.
In addition to the above-mentioned features, it provides modes for shooting in different scenes, such as the low light mode. Also, it supports wireless photo and video transfer via TransferJet.
This Sony is a very stylish and small camera that can be a very good choice when you think of buying a digital camera. One of the disadvantages is the blurry results that may require you to usea tripod in some cases.
Overall, it is a very good camera to choose because of its great photo and video results, and stylish look.
Everyone has special requirements and the choice of a pocket camera depends on one's own needs. The models above are rated as good and reliable cameras, and you can narrow your choices by reviewing each camera's good and bad points to find which one is the best for you.
Finally, it would be great if you shared with us your ideas about these cameras and your experience if you had already used any of them.
Price: Get a price on the Sony Cyber-shot DSC-TX9 at Amazon.