What You Need To Know When Buying Used DSLR Flash
Power, Control, Bounce, Recycle, and Red-Eye.
These are probably the five main considerations that are driving you to purchase an external flash for your Digital Single Lens Reflex camera. Unlike most pop-up flashes that usually come with DSLR cameras, an external flash provides:
● Higher flash power.
● More control of the amount of light the flash puts out.
● Bounced light with control of its angle and direction.
● Elimination of the light that bounces off eyes (red-eye).
● Higher recycle rates.
However, with prices ranging up to and even beyond $600 for a new flash, you might consider buying a used one at a substantial savings. If you're careful, you could land a bargain.
Preliminary Considerations
You might want to start by picking out your "dream" external flash – the best one you would by if you had the money to purchase new. When you enter the used-flash market, check the options available on the "dream" flash against those available on the used, but be willing to drop an option or two. Compromise is a large part of buying used items. Remember that how much you pay is not as important as how you need or want to use the flash. You can't compromise on the nature of your subjects, whether you take pictures of dolls for eBay or do portraiture. Once you have a flash in mind, do these two things: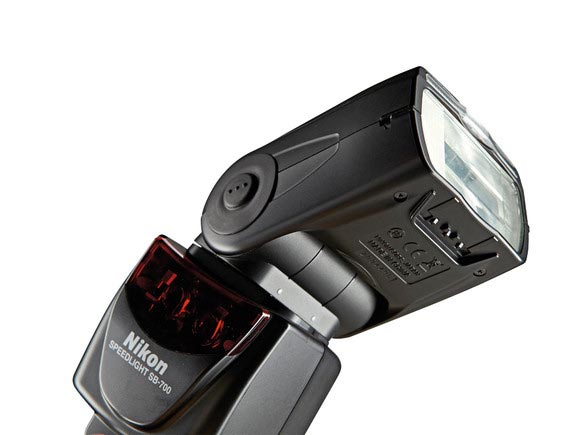 1- Download or read the manual online.
Once you have settled on a used flash that could work, go online and read or download its manual. Know all you can about that particular flash so you can competently test it.
2- Match manufacturers or double-check compatibility.
Sometimes a flash made by one manufacturer won't work well on another's camera. Of course, also double-check compatibility when considering third-party manufacturers.
Hold It In Your Hands
Unless offered a warranty (as with many used equipment dealers), you will want to hold the DSLR flash in hand so that you can really determine its worth. Because of this, you might not want to deal with eBay, whereas with Craig's list you have access to the owner and the unit itself. When you do venture into the marketplace, be prepared:
- Bring your camera with you.
Have the camera that you will be coupling with the flash when you shop. Have it ready to start working with the flash you intend to purchase.
- Take another photographer along.
If you're not really the techie type, you may want to bring one of your photographer friends along with you when you shop, as a jargon translator if nothing else.
- Keep shopping until you find the best deal at your budget.
You can't shop forever, but keep in mind that there's always a better deal somewhere.
The DSLR Flash Caveat Emptor List
You already know about "caveat emptor" and that you should walk away from a deal when things don't seem quite right. Beyond that, once you have the flash unit in your hands, there are number of things you must check to ensure that you're not getting burned. These tests and checks can be done quickly and easily.
Condition or Appearance
Just checking for dents, scratches, cracks and the like will give you a clue as to the age and the amount of use (or abuse) the flash has received. Check carefully. What seems to be a hairline scratch could turn into a catastrophic crack. Check for wear and tear on the hot shoe connections.
Flash Lamp
Well, of course you'll test the fundamental part. Either put it on the camera you have brought along or use the "test" button – a button to activate the flash without hitching it to a camera body.
Flash Settings
Put the used flash on your DSLR body. Most external flashes operate with a TTL (through the lens) system; make sure it is functioning properly. A working TTL flash will automatically change power output settings to accommodate the camera lens and the camera light meter. Manual settings available on the camera's menus should be checked as well when connected to the flash.
Front Glass
Is the glass in front of the lamp a bit yellowish? That could be burn residue or a sign that it's been through more than one lamp. The glass should be white and translucent.
Battery and Cable Sockets
Corrosion or spots on battery sockets are not a good sign. Battery leakage residue can cause electrical surges and damage the performance of a flash. Check the cables for wear or exposed wires.
Power Controls
Put the flash through its paces from the lowest power settings to the highest. Often a defective flash will only operate at a specific power setting.
Recycle Time
Prior to shopping, either from the downloaded manual or through web research, check the best recycle time for the flash. If the flash you're considering doesn't meet that time, the capacitor component might be entering its last stages.
Zoom Head
The part of the flash that moves back and forth to adjust the reflector inside the flash should move according to the zoom of the camera lens. When the head follows the zoom of the lens, the flash is probably working properly.
Bounce Card and Diffuser
Most external flashes have a bounce card and a diffuser. Check that they are intact and functioning properly.
AF Assist, Wireless Functions, etc.
Check the downloaded manual. More options than those listed above may be available and you will want to check those as well, especially if they are important to your photography needs. An AF assist light helps find an accurate focus. A wireless function triggers an external flash via signal. Some flashes have an optical sensor. Know enough about these options and others so you can adequately test them.
Holding off on Your "Dream" Flash
Before buying a used external flash, you really need to consider saving a bit more to buy the new flash you really want, and get the warranties to back up the purchase. Many brand new and inexpensive external flashes are available and prices for electronics are dropping all the time. If that's out of the question for any number of good reasons, just shop carefully and have a very good idea of what you need in an external flash. A decent second-hand flash can get you over a hump. As you gain more experience and start making real money from your photography, you'll be able to get the new external flash you really want – your "dream" flash.
About Author
Aileen Pablo
Aileen Pablo is part of the team behind Open Colleges. It is one of Australia's pioneer and leading providers of TAFE courses and photography courses. When not working, Aileen enjoys blogging, travelling, and photography.